Ministry of justice says it wants to introduce new standards to ensure only highest calibre of evidence is permitted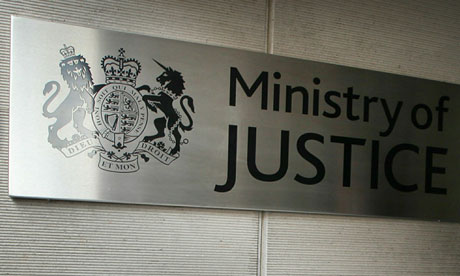 The Ministry of Justice, which is proposing a fresh round of cuts to legal aid. Photograph: Peter Macdiarmid/Getty Images
Too many expert witnesses are being paid to give evidence of little value in family courts, according to the Ministry of Justice, which is proposing a fresh round of cuts to legal aid.
The latest consultation is aimed at making significant savings from the government's annual bill of more than £50m spent on experts' reports. New standards, the department maintains, will ensure that evidence provided in a family court can only be given by "qualified, experienced and recognised professionals".
Opening the consultation, the family justice minister Lord McNally said: "Poor quality expert evidence can lead to unacceptable delays for children and their families. By putting standards in place we will ensure only the highest calibre of evidence is permitted in family proceedings. We want to ensure that evidence being put forward is more robust and that cases are resolved more quickly."
The MoJ claims the plans will "get rid of time-consuming evidence which adds little value in helping judges reach a decision" and speed up cases. The proposal follows the independent family justice review by David Norgrove, which identified weaknesses in the quality of evidence put forward by experts during proceedings involving children.
Dr Heather Payne, the chair of the Family Justice Council's experts working group, which drafted the standards, said: "They seek to provide the courts and lawyers with clear guidance on how to ensure that expert evidence is sought from an expert of the appropriate discipline, with appropriate professional qualifications."
In the 12 months to October 2011, according to the MoJ, £52m of legal aid was spent on expert reports. A review of case files by the department found experts feature in nearly 90% of care cases. Cases relying on experts involve, on average, around four separate opinions. More than a quarter of cases, the MoJ says, involved five or more expert reports. Nearly one in 10 cases involved seven or more reports.
In a separate development on criminal legal aid – where the government is planning to introduce competitive tendering and save a further £220m – the justice secretary, Chris Grayling, met solicitors on Tuesday.
Richard Atkinson, chairman of the Law Society's criminal law committee, warned Grayling that removing a defendants' right to choose their solicitor would destroy "an essential element of the criminal justice system".
SOURCE: The Guardian