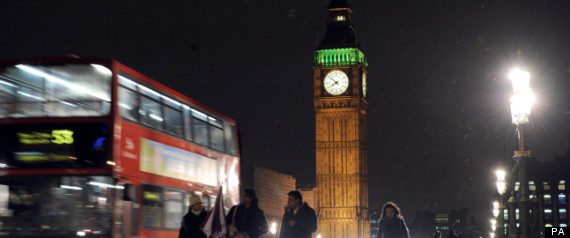 The House Of Lords Are Gearing Up For Fights With The Government On Several Fronts
This week political anoraks will have their eyes more on the House of Lords than the Commons, as two flagship government Bills continue their passage through the upper house of parliament. Neither of them are expected to come out of the Lords intact.
Last week it was an unholy alliance of crossbench and Lib Dem peers which caused the government's welfare reform Bill to be significantly amended, but this coming week it could be Tory peers who cause the problems. That's the expection of the Sunday Telegraph's Patrick Hennessy, who reports that "big beasts" of previous Tory governments are opposed to the legal aid reforms Ken Clarke is attempting to push through.
The Tory peers aren't the only ones who have grave reservations about the reforms. Even David Cameron knows that he's not doing well at all among women voters, and Tory MP Anna Soubry previously told HuffPost UK that the cuts would harm women stuck in abusive marriages. With peers of so many political persuasions having grave doubts about the Bill as it stands, revisions seem ineveitable. And as the BBC's Mark D'Arcy points out on his blog, so many government Bills are now clogged up in the Lords that the government could be forced to accept changes or risk running out of Parliamentary time.
A lot of attention this week will be focused on the Eurozone once again, but Britain's in for a sort-of treat this week as the new Italian prime minister, 'super' Mario Monti, arrives in Britain for chats with David Cameron and a couple of keynote speeches in London. Later on in the week Monti's taking part in a summit with Merkel and Sarkozy, by which point the markets will have cast their verdict on much of Europe being downgraded by Standard and Poor's on Friday night.
Wednesday will see the publication of a significant report from the National Audit Office on the Work Programme, Ian Duncan Smith's replacement for the Future Jobs Fund which was axed last year. Those with good memories will recall David Cameron mentioning the Work Programme time and again at PMQs last year, claiming it'd be a major plank of curbing unemployment. A scathing report from the NAO this week would not be helpful, right before the second PMQs of 2012.
We'll also get some fairly critical stats out this week – inflation on Tuesday (expected to go down, if it doesn't expect genuine howls of horror), and the quarterly crime stats on Thursday.
Another fun thing to watch will come on Friday, when Rebecca Harris' Daylight Savings Bill comes back to the Commons for report stage. It's still nowhere near being passed, but given the febrile nature of Anglo-Scottish relations at the moment, anything that points out the English are suffering dark evenings to appease Scottish farmers only adds to the mix. If we're going to get divorced, why don't we change timezones while we're at it?
Fast-forward to January 2015 when an independent Scotland is using Greenwich Mean Time, while England is running the same timezone as the rest of Europe. Happy days….