Lord chief justice says such research would help improve way in which young witnesses are treated by justice system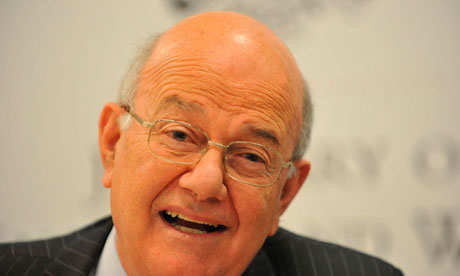 Lord Judge, who said more than 30,000 children are called to give evidence in court each year. Photograph: Ian Nicholson/PA
Research should be carried out into the long-term affects on those who give evidence about sexual abuse when they are a child, the lord chief justice, Lord Judge, has urged.
Giving a speech on law and psychiatry at King's College London, the most senior criminal judge in England and Wales said such evidence would help improve the way in which young witnesses are treated by the justice system.
His address, Half a Century of Change: The Evidence of Child Victims, noted that trials of sex crimes were relatively rare 50 years ago whereas "such cases crowd into our crown court lists" nowadays – involving both historic allegations and contemporary child abuse claims.
More than 30,000 children are called to give evidence in court every year for all types of offences, Judge said.
"For lawyers the focus has tended to be the court process, not for its own sake, but for the sake of justice, and the sake of bringing the process to an end in a verdict," he said. "For the psychiatrist, or psychologist, the focus is the welfare of the child
" … Assume that the child is telling the truth with an uncertain outcome if there is to be a trial, or appropriate psychiatric or psychological treatment for the child – and if both are appropriate, in which order should they take place? Which consideration should have the priority?
"I believe that this is an area where high quality research is needed. Do we know, indeed has anyone ever bothered to find out, how the child sees it all, not at the point when the decision is being made, but say, 10 years later? Which would have been the better course? I am told … that no research in this country has yet examined the impact on child witnesses years after their court appearances.
".. What I am prepared to say for certain is that the quicker the court process is completed, the better for the long-term interests of the child."
Judge accepted that cross-examination of child witnesses after they had given their main evidence – video-recorded and presented to a jury – was sometimes necessary. "If the interests of justice require a further cross-examination, so be it: as to when and where it should take place, appropriate arrangements can be made."
More use should be made of examining child witnesses through an intermediary, he added. "We have not yet fully answered the question whether it is necessary for the child witness ever to come to court at all, and whether for some of them, at any rate, attendance at trial cannot be arranged in a more congenial place, with necessary safeguards to ensure judicial control over the trial process and the safeguarding of the interests of the defendant."
"Tag" questions commonly used by barristers, such as "Did he?" or "Did you?", "are particularly damaging in cases involving young witnesses", Judge said.
SOURCE: The Guardian