Pair plunged into 'nightmare' after anonymous tipoff about treatment of daughter are awarded £2,000 damages in high court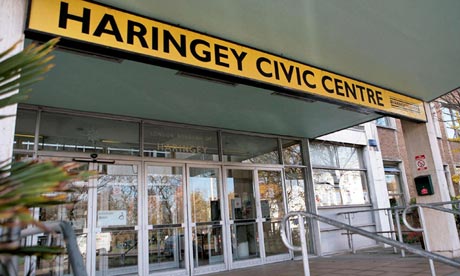 Haringey civic centre in Wood Green, north London. The council mishandled its investigation, giving the couple several grounds for legitimate complaint, a judge has ruled. Photograph: Katie Collins/PA
Two experienced senior social workers who were plunged into a "nightmare" after officials unlawfully investigated them over false allegations they had ill-treated their young daughter have won damages in the high court.
The pair, known as AB and CD, were exonerated by the court in the wake of a botched inquiry carried out by Haringey council
children
's services in north
London
. The council had acted on what turned out to be a "malicious" anonymous tip that they had slapped and verbally abused their child, known as EF.
The two argued that not only were there no grounds for a full
child protection
investigation because there was no evidence that EF was at risk of harm, but that the entire process was "so flawed procedurally and so fundamentally lacking in the essential minimum requirements of a guidance-complaint process that it was unlawful".
In his ruling, Judge Anthony Thornton agreed that AB and CD had several grounds for legitimate complaint over Haringey's handling of the case, including that it embarked on an initial assessment of the daughter without evaluating whether she was really at risk, and that it failed to take steps that would have "enabled an objective and fair decision" to be taken.
Thornton quashed Haringey's decision to commence the investigation, made under section 47 of the 1989 Children Act, in May 2011. He also ordered Haringey to pay the parents £2,000 compensation for the infringement of their Article 8 rights to "private and family life" under the European convention on human rights.
The child's mother, AB, who cannot be named for legal reasons, later described what had happened to her family as "a nightmare".
She said council social workers had acted "outrageously" and added: "They thought they were completely unaccountable – but today they have been held to account by the court. This is a landmark case for parents. One wonders how many families are out there suffering."
A Haringey council spokesman said: "Our handling of this case fell below the standards that we would expect, and we apologise to the family concerned.
"We are committed to learning from the findings of the court as we continue to make improvements to our child protection and safeguarding systems."
The council's children's services department acted after receiving an unsigned letter, addressed to Social services Child abuse Department" [sic] on 15 April 2011. It set out suspicions that the girl was being maltreated and accused the mother of "always screaming" at her daughter.
It stated: "The little girl looks so unhappy she is not allowed to speak to anyone and when you see her in the street the little girl looks so sad and never raises her head to look at you."
Haringey social workers triggered an immediate screening process to identify if the allegations were true.
Despite making no attempt to get the permission of the girl's parents, they contacted her school, GP and local police. The GP told them there were no concerns about the family, while the school refused to give out information.
A Haringey social worker subsequently phoned the girl's parents, who were out driving at the time. They pulled over to the side of the road to take the call, and were read the contents of the letter.
During the phone call, AB said it was "ridiculous" the council was taking anonymous letter so seriously. The social worker recorded that AB's response had been "defensive" and made "in an angry manner".
Partly as a result of AB's angry phone response, which Haringey deemed to be "erratic, overcritical and lacking warmth", and partly because of a subsequent, strongly worded email sent by AB to the council complaining about the handling of the assessment process, the council's head of service for first response, Sylvia Chew, decided on 5 May to escalate the initial assessment into a fully blown section 47 child protection investigation.
On 9 May a home visit was made at which social workers interviewed AB, CD and their daughter. The interviews, conducted separately, found that the daughter made no disclosures and the parents were "reasonable and believable". The case was subsequently closed.
Chew said in a statement to the court she had believed a section 47 investigation had been warranted on the grounds of "emotional abuse", taking into account both the referral letter and the parental response. The judge ruled, however, that "there was no evidence that EF's emotional development had been severely and persistently affected by persistent maltreatment".
Haringey council, which has suffered a series of high profile child protection scandals in recent years, added that neither Chew, nor Jeffrey Baker, a social work manager also centrally involved in the case, still worked for the authority.
The judge noted that Haringey was acting under considerable pressure with limited resources. In 2012 it received an average of 650 contacts a month, of which over a third progressed to a full assessment, and was embarking on eight to 10 new section 47 enquiries each week.