Judges back employment tribunal decision that Haringey council acted reasonably in dismissing Maria Ward and Gillie Christou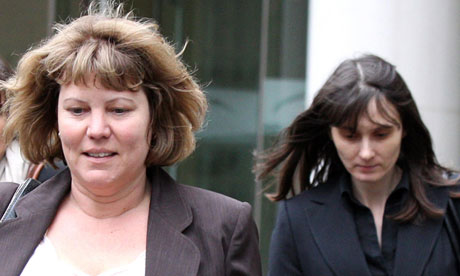 Gillie Christou (left) and Maria Ward were dismissed because of serious failings in their care of Peter Connelly, who died in August 2007. Photograph: Lewis Whyld/PA
Two of Baby P's social workers have lost an appeal against an employment tribunal ruling that they were fairly sacked in the wake of the public outcry over the toddler's death.
Maria Ward and Gillie Christou claim they were unjustly dismissed by Haringey council in north London after 17-month-old Peter Connelly died nearly six years ago.
An employment tribunal concluded in 2010 that the council acted reasonably in dismissing the two women because of serious failings in their care of the child.
Ward, Peter's nominated social worker from February 2007 until his death in August 2007, and Christou, her team manager, unsuccessfully took their case to the employment appeal tribunal before going to the court of appeal where, on Tuesday, Lord Justice Laws, Lord Justice Elias and Lord Justice McCombe rejected their arguments.
Peter had suffered more than 50 injuries despite being on an at-risk register and receiving 60 visits from social workers, police and health professionals over eight months.
Peter's mother, Tracey Connelly, her boyfriend Steven Barker and his brother, Jason Owen, were jailed in 2009 for causing or allowing the toddler's death.