Woman who lives with son in three-bedroom house with fortified loft has been told she will lose some of her benefits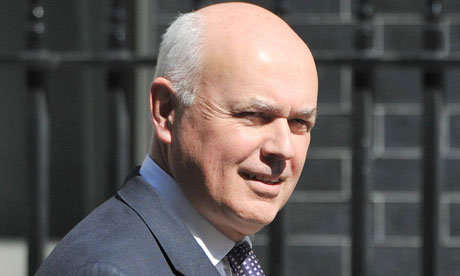 Iain Duncan Smith, the work and pensions secretary. Photograph: Rex Features
A victim of domestic violence who faces losing her council home which has a secure "panic room" is to challenge the government's so-called bedroom tax.
Lawyers for the woman have issued a claim against Iain Duncan Smith, the work and pensions secretary, after council officials told her she would be charged for having a spare bedroom.
The woman, who is in her forties and lives in the East Midlands, has had her bedroom door and the surrounding frame strengthened to provide protection against an ex-partner who has threatened to kill her.
Thousands of pounds have been spent by a women's refuge charity reinforcing window frames and the front door and making the back garden more secure. The loft has been fortified as an additional safe retreat.
The local council has inspected the three-bedroom property, where the woman and her young son live, and told her she will lose £11.65 a week from her benefits on the grounds that she has a spare room.
Ministers argue that the bedroom tax, which David Cameron calls the "spare room subsidy", will encourage people to move to smaller properties and save around £480m a year from the government's housing benefit bill.
Critics warn that as well as causing social disruption, the initiative risks increasing the cost for taxpayers because there is a shortage of smaller social housing properties and people may be forced to downsize into the more expensive private rented sector.
The woman, who can be identified only as Julia, says that if she is forced to move she will also lose her neighbours who are aware of her vulnerability and keep a lookout. Her case is being supported by the charity Women's Aid.
Julia told the Guardian: "The council have been out to measure the box room and are saying it is a third bedroom. I suffer from anxiety, depression and post-traumatic stress. When I'm sick, my grownup daughter comes over to stay with me.
"I receive £380 a fortnight for myself and my son. My outgoings already exceed my income. If I lose £11.65 a week, I will get into debt and be forced to leave. I've lived here for 25 years.
"This bedroom tax is not taking individuals' situations into consideration. This is about people's lives. Not everyone has the same story. If I have to move out I've been told I won't get the security put into another property. The father of my son has threatened to kill me."
The judicial review case has been brought by the solicitor Rebekah Carrier, from the law firm Hopkin Murray Beskine. Counsel in the claim is Caoilfhionn Gallagher.
Polly Neate, chief executive at Women's Aid, said: "It is unacceptable that someone who faces such a dangerous threat could be left so exposed by the council which is supposed to be protecting her.
"Two women are killed every week by their partners or former partners, and the combined effect of the bedroom tax, the benefit cap and the cuts to refuges will lead many like Julia, who are currently protected, losing the vital support of specialist services.
"We urge the government to make victims of domestic violence, and the services that support them, exempt from the bedroom tax and benefits cap. We also strongly urge the council in this case to rethink it's response."
SOURCE: The Guardian