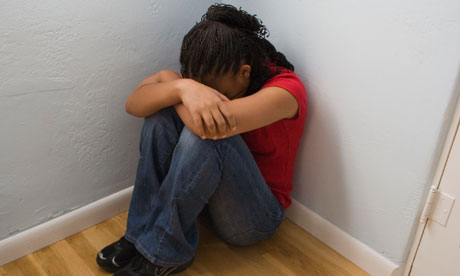 Victims of domestic violence at risk of further abuse are being advised to sleep in Occupy camps, in police stations and accident and emergency departments. Photograph: Getty Images/DK Stock
Charities say funding cuts mean it is increasingly difficult to find beds for vulnerable women
Victims of domestic violence at risk of further abuse are being advised to sleep in Occupy camps, in police stations and accident and emergency departments because of sweeping cuts across the sector, according to domestic violence charities.
On an average day last year 230 women were turned away by Women's Aid, around 9% of those seeking refuge, because of a lack of space, the organisation has revealed.
And as further cuts begin to bite more women are likely to be put in danger, said Nicola Harwin, chief executive of Women's Aid, the largest national organisation for domestic and sexual violence services.
Freedom of information requests released in a major new report revealed that 31% of funding to the sector was cut by local authorities between 2010/11 and 2011/12, a reduction from £7.8m to £5.4m.
Harwin, who has worked in refuge provision since the 70s, said there was a real risk that four decades of progress in the sector could be lost. "We were one of the first countries in the world to create refuges, we built up those blocks gradually and they are being taken down," she said. "There is enormous determination, resilience and passion in this sector but the pressure on services to meet these women's very complex needs is huge."
Heather Harvey, research and development manager at Eaves, a London-based domestic violence charity, said it was becoming increasingly difficult to find a bed for vulnerable women. "We used to have a situation where we couldn't quickly place someone in emergency accommodation perhaps once a month. Now it's happening two to three times a week," she said.
Support workers were forced to suggest places for women to sleep outside, such as the Occupy camps, accident and emergency departments or night buses, she added. "All you can say to some of them if you sleep on the street, here are some ways of staying safe – but of course there have been reports of rape at an Occupy camp, . And you are only displacing the burden, someone has to pick up the human and economic cost further down the line."
The situation was reaching crisis point, she said. "Women are literally having to find a way of staying safe on the streets, or staying in violent relationships where they could end up dead. And the ultimate costs of that are huge – to the police, the NHS, the courts – it's a total false economy."
The effect on local services is both "dramatic and uneven across localities", according to the report commissioned by Trust for London and the Northern Rock Foundation. Specialist services are being particularly hardest hit, with organisations with local authority funding of less than £20,000 suffering an average cut of 70%, compared with 29% for those receiving more than £100,000. Imkaan, who run refuges for minority women, were forced to close two of their six refuges, losing local authority funding for two more.
Hannana Siddiqui, of Southall Black Sisters, which provides support for black and ethnic minority (BME) victims of domestic violence and is in danger of losing up to half its staff next year, said specialist services were too small to compete in new commissioning models that demand budget services.
As a result minority organisations were having to close or be absorbed by a larger group, she said: "But we have built up the expertise to meet the needs of hard-to-reach BME women. And if you reduce the quality and quantity of provision that has serious implications. More women are turned away, there are more suicides, more homicides, more forced marriages."
A perfect storm of statutory cuts to police, welfare, housing and legal aid was also putting pressure on the sector, with little being done to measure the impact on women's services, said Harwin.
Changes in commissioning meant local authorities were increasingly choosing low-budget services from non-specialist providers, she said. "Every area is being hit, and if all routes to safety are being cut back I believe we will see more tragedies, more homicides and lots more women and children living in violent situations," she said.
Cuts to Supporting People, a government programme for vulnerable people with housing needs, and legal aid were expected to disproportionately impact women, while other specialised expertise including domestic abuse officers, a unit on female genital mutilation and domestic violence courts had also been lost, according to the report.
In other examples, Refuge, a charity which provides emergency accommodation for women and children, reported cuts to 50% of their contracts, Respect, a charity with works with perpetrators of domestic violence, reported 44% of services had lost specific projects, while research from the Women's Resource Centre found that one in five women's organisations have closed (pdf), and 25% of those questioned believed funding cuts would lead to the closure of their organisation.
Yvette Cooper, the shadow home secretary, said the combination of pressures around commissioning, and cuts to funding and statutory organisations motivated her to launch a commission on women's safety, spearheaded by the former solicitor general, Vera Baird.
"These figures that show such a steep cut in such a short period of time are shocking," she said. "I am deeply concerned about this – it is putting women and children in danger and we risk turning back the clock on the important work that has been done to prevent women being put in life-threatening situations."
She called on the government to urgently assess the impact of cuts, and ensure every area had sufficient services for vulnerable women.
Lynne Featherstone, the Home Office minister for equality, who will speak at the Women's Aid AGM on Wednesday, said the coalition had demonstrated that ending violence against women and girls was an "absolute priority", publishing an action plan to end violence against women and girls, ring-fencing £28m for domestic violence services, and allocating £10.5m for rape crisis services, and £900,000 for domestic violence helplines.
Featherstone called on local authorities not to make disproportionate cuts or look at the women's sector as a "soft target" for cuts.
"These are tough times and everyone is dealing with cuts, but this coalition government has sent out a very clear message about the importance and value it places on this sector. I would rebut very firmly that the sector is in crisis, this government is putting it's best foot forward and is committed to ending violence against women and girls," she said.
Case study
Eaves recently struggled to help 29-year-old Linda and her 11-month-old baby. She fled to her mother's house after being physically abused by her partner, but when she refused to return to him she was thrown out and left homeless.
The homeless people's unit (HPU) of her local authority decided she was not a "priority" case and only provided last-minute B&B accomodation for two consecutive nights. Linda and her baby lingered in fast food restaurants and internet cafes to keep warm. With her bags clearly visible in the pushchair she felt vulnerable, and described the experience as "really frightening".
"This was nothing short of the most horrible and terrible time of my life," she said. "When I was at my most vulnerable, I was pushed away in the coldest manner by the HPU who told me that they had "bigger priorities".
Only when threatened with a judicial review did the council agreed to provide temporary accommodation – in a hostel – "while they conducted an investigation".
Support worker Lorena Fuentes said: "Obviously she was a priority – a young mother with a baby under a year old and fleeing a violent situation – so we were stunned when the local HPU turned her away.
"Quite frankly, I don't think this would have happened a year ago. All this trying to dodge responsibility, quite apart from being hugely stressful to the mother and baby, is a pointless waste of everybody's time and money."
Linda said without the help of the Scarlet Centre, a drop-in centre for women who have experienced domestic violence, she would have been completely lost.
"It makes me feel uncomfortable talking about it even now, and I have a sick feeling in my stomach that won't go away. The feeling of the stress and uncertainty of what was going to happen to me and my baby made me feel beyond desperate. I would hate to think where we would be without them."
More on this story

How will the cuts affect services preventing violence against women?
Funding cuts are leading to slashing of budgets in local services helping to prevent violence against women. How will the cuts impact on the most vunerable?

Related
5 Apr 2009
Women's refuges told they must admit men
15 Feb 2011
Women's refuge chief returns OBE in protest over cuts
20 Aug 2010
Treasury plans 'will cut off 400,000 of society's most vulnerable'
17 Dec 2011
Abused women need support, not more consultation