South African multimillionaire ends four-year dispute with estranged wife Lisa Tchenguiz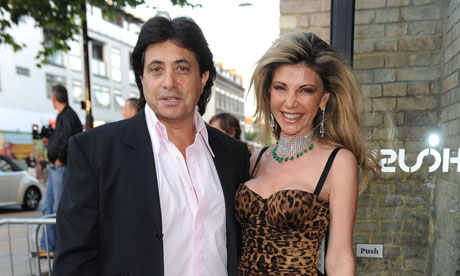 Vivian Imerman with Lisa Tchenguiz.
The high-profile divorce battle between the multimillionaire drinks magnate Vivian Imerman, nicknamed "The Man from Del Monte", and his estranged wife, Lisa Tchenguiz, has ended in a £15m settlement.
The four-year-long dispute, which included a landmark ruling banning the secret copying of financial documents during divorce proceedings, ended in an agreed statement approved by a high court judge.
Imerman, a South African-born businessman who is chief executive of the Del Monte tinned fruit company, was married to Tchenguiz, whose brothers are wealthy London property developers, for seven years. They signed a pre-nuptial agreement before the marriage. His personal worth has been estimated to be at least £300m.
During the divorce her brothers, Robert and Vincent Tchenguiz, downloaded thousands of documents from Imerman's computer in order to expose the scale of his fortune.
The court later ordered that the files should be returned. Until then family lawyers had advised divorcing couples that obtaining such financial information was permissible under the "Hildebrand rules".
A statement issued on behalf of the businessman said: "Vivian Imerman confirms, following negotiations between him and Lisa Tchenguiz and their respective advisers, that they have reached a full and final settlement of their ongoing divorce proceedings.
"Mr Imerman believes that this is in the best interests of their daughter. This brings to an end four years of litigation which included an extremely wide-ranging process of financial disclosure, managed by the court.
"In order to avoid unnecessary, unfair and inaccurate speculation as to the terms of settlement and, given that such speculation has already found its way into the press, Mr Imerman confirms that he will pay a lump sum to Ms Tchenguiz of £15m in instalments, with no order for costs." Both parties were said to have signed a "binding confidentiality agreement".
SOURCE: The Guardian