Ken Clarke to take charge after Djanogly failed to declare family interest in claims management companies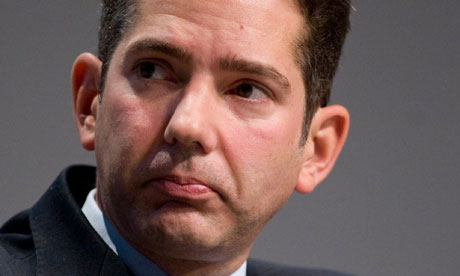 Jonathan Djanogly's children were shareholders in his brother-in-law's claims management companies – part of an industry the justice minister regulated in government. Photograph: Rex Features
The justice minister, Jonathan Djanogly, has been stripped of his responsibility to regulate firms that "ambulance chase" the public following a Guardian investigation that revealed how he and his family could profit from controversial changes to legal aid he was piloting in parliament.
Djanogly, the heir to a £300m family business, had failed to declare that his teenage children were minority shareholders in his brother-in-law's businesses – two firms that advertise claims and are part of an industry that Djanogly regulated in government.
Claims management companies "ambulance chase" the sick, the sexually harassed and the sacked and put them in touch with no-win no-fee lawyers. The firms collect a payment known as a referral fee. In May the Legal Services Board, the independent body which advises minsters on legal regulation, had said the case for banning referral fees "had not been made out". Four months later – without any consultation or impact assessment – Djanogly announced a ban on referral fees in personal injury cases, but effectively excluded his brother-in-law's businesses, which deal with employment law.
Djanogly admitted last week that Sir Gus O'Donnell, the cabinet secretary, had launched an inquiry into the apparent conflict of interest. In a letter to Labour's justice spokesman, Andy Slaughter, who had raised the matter, O'Donnell said that while there is "no suggestion of any impropriety in relation" to Djanogly's brother-in-law's firms that "for the avoidance of doubt decisions about the regulation of individual (claims management companies) should henceforth be handled by another minister".
O'Donnell said that Ken Clarke, the justice secretary, would now be in charge of the industry, leaving Djanogly in charge of legal aid and civil litigation. This still means he will be able to identify growth areas for claims management companies.
Djanogly's brother-in-law, Ben Silk, runs two firms Legal Link Introductory Services that trades as Justice Direct – and markets itself as the "leading claims management company in the UK".
The other is Going Legal, which claimed it has recovered £20 million for unfair dismissal claims since 1999. It is also known as "Sexual Harassment at Work", "Employment Tribunal Claims" and "Injury At Work Claims".
The two firms made a profit of £130,000 last year. After he was contacted by Silk, who had been alarmed by the Guardian's investigation, the minister sold his children's stake.
Last week the Guardian revealed that Djanogly has been forced to publicly declare in the parliamentary register that his controversialstakes in the insurance industry have been placed in a "blind trust" to insulate himself from the fact he could personally profit from legislation he is piloting in the Commons.
The minister registered his insurance industry investments in the trust seven days after the Guardian exposed how he potentially stood to gain from a bill he was pushing through the house.
Djanogly has at least £250,000 in shares in companies with insurance subsidiaries and is a member of his family's Lloyds underwriting partnership that deals in accident, health and motor claims. He has been entitled to a £41,000 a year from that partnership, known as the Djanogly Family LLP.
The minister is stewarding the legal aid, sentencing and punishment of offenders bill through the Commons. It proposes to slash the legal aid budget by £350m and shift part of the costs of bringing no-win, no-fee cases from losing defendants to winning claimants.
This would reduce the liabilities of companies and their insurers if they unsuccessfully defend a claim as it will force claimants to pay out of any awarded damages their lawyers' success fees and insurance policies that cover court costs.
The minister had attempted to insulate himself from charges that he was making investment decisions in the family underwriting business, which stakes millions in the insurance market, by "delegating sole management … to the managing agent" in 2010.
But this does not absolve the minister from statutory duties as a partner. A primary responsibilty of membership of the business is to safeguard the assets of the partnership. This effectively means that the minister could be sued if he was to advance a law that threatened the underwriting business.
O'Donnell accepts Djanogly's statement that "he has not – and has never had – any knowledge of or influence over investment decisions" and that he had "formalised" this arrangement in 2010.
Slaughter said that the minister had been "stripped of responsibilities". But he added: "There are serious questions over whether the conflicts of interests influenced the policy making process and there are further questions over the Djanogly Family LLP that need to be answered. I will be writing to Sir Gus O'Donnell shortly."