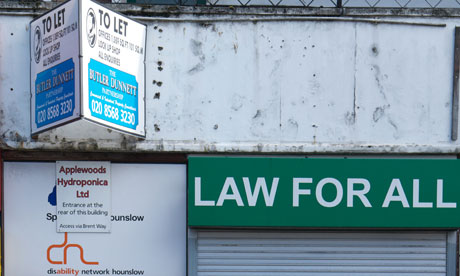 Law for All's office in Brentford – a legal advice charity that has gone into liquidation due to anticipated legal aid cuts Photograph: Legal Action Group
Proposal due before parliament as '
Law for All
' charity blames planned legal aid cuts for pushing it into liquidation
A fresh wave of law centre closures and redundancies is feared as the government introduces plans this week for an additional 10% cut in legal aid fees.
The proposal is being laid before parliament by the Ministry of Justice to cut costs in what it alleges is the "most expensive legal aid system in the world".
The move comes as another legal advice charity, Law for All, based in Ealing, west London, went into liquidation, blaming the anticipated reduction in fees.
The MoJ's latest 10% cut comes on top of the 12.5% imposed by Labour in the final days of the last government. The ministry is expecting political opposition once parliament resumes – a debate in the Commons and possibly a judicial review challenge in the courts.
Law for All employed 70 lawyers and other staff. It provided advice and legal support to around 15,000 clients a year in several west London boroughs as well as parts of East Anglia and Staffordshire.
In a farewell statement, the charity said: "Changes to the administration of publicly funded legal work have resulted in an unsustainable administrative burden … not to mention reduced payments in real terms.
"These factors – combined with current plans by the government to cut legal aid payments by a further 10% this autumn and to almost completely end legal aid in October 2012 – have led the trustees, reluctantly, to conclude that there is no hope of a viable, long-term future for Law For All."
The closure of Law for All follows the collapse of two other legal advice charities – the Immigration Advisory Service and Refugee Migrant Justice – in the past year. Both blamed cuts in legal aid for their difficulties.
As well as reducing legal aid fees, the government's Legal Aid, Sentencing and Punishment of Offenders Bill proposes to save a further £350m by withdrawing legal aid from across a wide range of cases involving welfare, medical negligence, housing and family issues. It is expected to meet stiff resistance in the Lords this autumn.
The government's intention to impose the additional 10% cut had been signalled previously. It will come into force in October for criminal and civil cases and next February for family cases unless it is voted down by MPs.
The government's response to legal aid reform proposals last summer acknowledged that "solicitors in particular argued that the proposed cuts in their [civil and family] fees would make legal aid work unviable, and would deter experienced practitioners from undertaking this work".
Steve Hynes, director of the Legal Action Group, said: "We fear we are going to get more insolvencies after Law for All because [the costs] of doing legal aid won't stack up.
"The government promised a fund of £20m to help law centres because a third or a half of them could close. We haven't heard where this money is going to be spent.
"A lot of these lawyers are on salaries of £28,000 to £30,000 a year. That's less than a primary school teacher with three years' experience. They are not well paid."