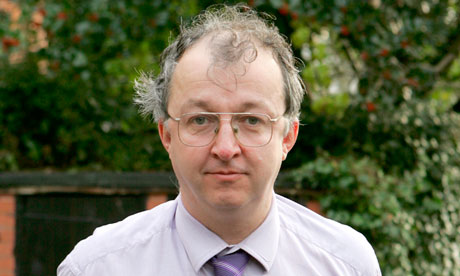 John Hemming, the Lib Dem MP for Birmingham Yardley who defended a woman in the Commons, has been accused of abusing parliamentary privilege. Photograph: 24/7 Media/Rex Features
Labour MP says Lib Dem was 'foolhardy and irresponsible' for defending a woman in Commons later denounced as a liar
Liberal Democrat MP John Hemming is facing calls for his resignation after a woman he defended in the Commons using parliamentary privilege was denounced by a judge as a liar.
Labour MP John Mann said that a court decision on Monday showed that Hemming had been "foolhardy and irresponsible", and that he was not fit to serve as an MP because he had abused parliamentary privilege.
But Hemming said on Wednesday that Mann was missing the point and that he decided to name Vicky Haigh in the Commons in April, using parliamentary privilege as a cover, because he thought it was wrong that Haigh had been threatened with jail for speaking out about confidential family court proceedings.
Hemming, who used parliamentary privilege in May to name Ryan Giggs as the celebrity protected by a controversial injunction, also said that he would continue to campaign against what he sees as excessive secrecy in the court system.
In April, Hemming raised Haigh's case in the Commons on a point of order. "Vicky Haigh, a horse trainer and former jockey, was the subject of an attempt by Doncaster council to imprison her for speaking at a meeting in parliament," he told John Bercow, the Speaker.
Hemming said that because Haigh had not been jailed, he assumed the case was not sub judice. But Bercow said that it was his duty to stop MPs discussing matters that were sub judice in the Commons, and that Hemming should raise the matter with him in private.
Haigh has been involved in a bitter custody battle with her former partner, David Tune, which has involved court proceedings taking place in private.
But on Monday, in an unusual move, Sir Nicholas Wall, the president of the family division of the high court, took the decision to name all the adults in the case because Haigh had manufactured "scandalous" allegations about Tune abusing their daughter, referred to in court as X.
"Allegations of sexual abuse were first made by the mother and not by X," he said: "These were false and the mother knew them to be false." Wall said that he was lifting the ban on the adults being named so that Tune could "tell the world" he was not a paedophile.
The daughter now lives with her father. At the hearing on Monday, a private investigator who helped Haigh was jailed for nine months for contempt of court because she breached a court order preventing reporting of the case.
After the hearing, Mann, who at one time was Haigh's constituency MP, put a statement on his website denouncing Hemming.
The court hearing illustrated why "a gung-ho attitude to the breaching of court injunctions on the floor of the House is both foolhardy and irresponsible", Mann said.
He added: "Mr Hemming has abused parliamentary privilege and should resign. He clearly has a psychological obsession with the breaking of court injunctions and is not fit to be an MP."
Hemming told the Guardian on Wednesday that, when he raised Haigh's case in the Commons in April, he was not referring to the rights and wrongs of the custody battle.
Instead, Hemming said, he spoke out because he thought Doncaster council was wrong to threaten Haigh with jail for revealing confidential details of the custody case at a meeting in the Commons that he was chairing. Hemming said he was particularly concerned because in cases of this kind, involving contempt proceedings in the family courts, people have been jailed without the details being made public.
"John Mann's most recent publicity stunt demonstrates that he is not worried about people being locked up in secret," Hemming said.
"Doncaster council tried to imprison Vicky Haigh because she spoke at a meeting in the House of Commons that I chaired. They also tried to keep her name secret. It is wrong to jail people in secret for speaking in the House of Commons."
http://www.guardian.co.uk/politics/2011/aug/24/john-hemming-resign-abusing-privilege