The risk of aggrieved parents posting defamatory material will only increase following Lord Justice Munby's decision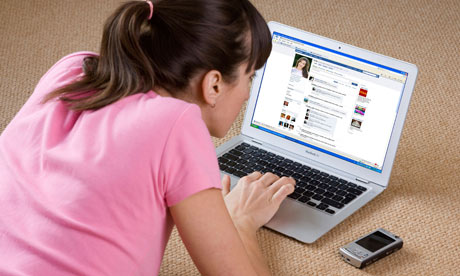 Some social workers have had personal details on Facebook used against them. Photograph: David J. Green /Alamy
The recent landmark ruling by Lord Justice Munby that allowed a father to post a video of social workers removing his baby is worrying news for social workers.
There is a wealth of information online dedicated to "exposing social workers", including names, addresses and photos, and even the depiction of Nazi insignia to accompany the social services initials, "SS".
There is a small but committed online movement who believe that social workers are part of a global conspiracy to profit financially from removing children from their homes. While no one can say that errors of judgment regarding families are never made, this is clearly not true.
It is on these sites that aggrieved parents find an outlet, and there is a risk that the Munby judgment will fuel the feeling among such individuals that it is their right to post potentially defamatory material about named social workers.
The allegedly secretive nature of the family courts, largely closed to the public, with no jury present and judgments very rarely published, already give oxygen to the conspiracy theorists. These reporting restrictions are a child-protection measure, not a bid to hide corruption and secret quota filling.
So where are the rights of social workers in this Munby ruling, and does it even matter? The answers to these questions are "they have few rights" and "yes".
The gag on social workers discussing the details of cases is still in place and social workers have not asked for it to be removed. Some might say this is a good and protective measure for both social worker and client; yet all too often it translates to the public as censorship. Social workers operate under stringent confidentiality clauses but the majority understand that it is better to respect a child's privacy than to rush to defend themselves from media claims about their alleged incompetency.
It will be interesting to see how local authorities respond to the Munby ruling. Will they start to reveal the details of cases in response to online postings or stand by confidentiality clauses?
The footage at the centre of the Staffordshire case, of an emergency protection order being enacted, was widely circulated by media. It gave just the slightest insight into the painful realities of child protection social work. Such footage also poses a bold question to the public. Do they want children to be protected or not? And also what do they think happens, that a child is exchanged cheerfully over a cup of tea?
Child protection, while a moral imperative, is hard, emotionally challenging work, and social workers regularly jeopardise their own safety to keep children safe. The terrible death of Daniel Pelka and subsequent serious case review highlighted just one difficult issue facing child protection social workers, that of having to deal with aggressive and manipulative parents.
The Munby ruling theoretically means that not only do social workers have to face threats in person, they may have to cope with 24-hour-a-day onslaughts in the form of social media.
Members of the British Association of Social Workers (BASW) regularly report being harassed by clients, an unlucky few have had personal details innocently posted on Facebook used against them. One social worker's wedding photos were daubed with Nazi insignia and re-posted on a hate site.
Increasing numbers of social workers are reporting they have had enough of such attacks. BASW membership has now passed 15,000 for the first time, up 29% since 2008, with record numbers in all four UK countries.
This reflects both the growing reputation and status of our organisation as the voice for social work and, if we are honest, the increasing strain many social workers feel and their need for greater support.
Referrals to BASW's trade union arm, the Social Workers Union (SWU), are up 55% since 2009. Members report rising incidents of bullying and harassment at work, top-down pressures from local authority managers hit hard by austerity and increased stress from unmanageable caseloads.
One new member told BASW: "I joined because I felt that social work is under threat and I feel vulnerable in my current employment."
BASW is currently seeking legal advice for members as to the ramifications of the Munby ruling, but what is clear is that social workers need greater protection from vexatious critics, not less. The Munby judgment is a worrying backwards step.
Nushra Mansuri is a professional officer at the British Association of Social Workers (BASW)
SOURCE: The Guardian