Couple say there is 'culture of bad practice' at north London council children's services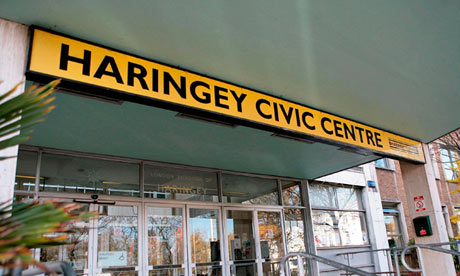 Haringey council children's services had previously been criticised over the handling of the Baby P case. Photograph: Katie Collins/PA
Two senior child protection professionals who were wrongly investigated over false allegations they abused their young daughter have launched a scathing attack on the "unlawful and unprofessional practices" they say are rooted in Haringey council's social services department.
The couple, known for legal reasons as AB and CD, were exonerated and awarded damages by a court last month following a botched inquiry in 2011 by the council's children's social services into a "malicious" anonymous tip-off that they had slapped and verbally abused their child, known as EF.
The pair, who have described their experience as a "nightmare" in which they feared their daughter would be taken into care and their professional careers ruined, had brought the judicial review against Haringey to ensure references to the unlawful investigation were removed from their records.
In a letter to the council's director of children's services, Libby Blake, the pair attack what they say is a "culture of bad practice" at the council and say they have no confidence that it offers anything more than "superficial compliance" with social work law and codes of practice.
The judgment, believed to be the first time parents have won damages from a council over a breach of its duty to parents in a child abuse case, was the latest blow for a council struggling to recover from the controversy in 2008 surrounding the death of Peter Connelly, a 17-month-old boy on its child protection register known as Baby P.
The parent's criticisms of Haringey are in response to a letter of apology to them sent by Blake on 21 March, a week after a judge ruled that the council's actions in launching a full section 47 child protection investigation into the couple in May 2011 was procedurally flawed and unlawful.
In the letter Blake says the council "deeply regret[s] the impact on your family of our flawed intervention" and outlines a number of measures it is taking to tighten up child protection procedures and decision-making. Blake joined the council as director of children's services in November 2011, six months after the case against AB and CD was dropped.
But in their reply to her, seen by the Guardian, the parents say Blake's apology fails to capture the "unreasonableness of the behaviour of your service towards our family".
It adds: "We would have welcomed your reflective thoughts as to the cause of this unlawful behaviour; was it incompetence and/or malicious?"
The letter, dated 15 April, says Blake offers nothing in her letter "that might break the culture of bad practice (to be defended at taxpayer expense) that has been shown by the case to exist in our borough".
It continues: "You are, we assume, a trained and qualified social worker just like we each are. We invite you to put yourself in our position as of May 2011.
"You realise that your child's whole future and your career are at stake simply because you are a social worker and you know wrong has been done and you have dared to say it. Consider the sleepless nights, the unbearable level of emotional distress we have carried for almost two years compounded by colleagues whispering about you, innuendos and your career in jeopardy because, as the old adage goes, there is no smoke without fire."
The letter adds: "Only once you can empathise with that position can you even begin to see how wretchedly your whole department has behaved, yourself included, and know what the right behaviour should be from the whole of the involved senior management team. We leave you to think on what that should be."
Although Blake was not employed by Haringey at the time of the inquiry, AB and CD say she should have settled with them and accepted the wrongdoing rather than defending Haringey's behaviour and allowing the judicial review to be contested at taxpayers' expense.
A Haringey council spokesperson said: "We have been clear that our handling of this case fell below the standards that we would expect, and we are very sorry for the distress caused to the family concerned. We are committed to learning from the findings of the court as we continue to make improvements to our child protection and safeguarding systems.
"We have ordered a review of all child protection cases between May 2011 and March 2013. This shows how serious we are about continuing to learn and improve, following fair and robust processes, and ensuring that vulnerable children in Haringey are protected."
The letter points out that Haringey's former head of service for first response, Sylvia Chew, whose actions in the case were criticised by the judge, left the council after the dropping of the investigation against AB and CD to take up the post of head of children's social care at Kingston borough council.
Kingston said that until the judicial review ruling, it had been unaware of the proceedings against Haringey or Chew's involvement. It said it had asked Haringey for a reference for Chew and was told that Chew was "definitely part of the fixing of Haringey and bringing it forward after Baby P".
Haringey tried to prevent the naming of Chew and other Haringey staff in the formal judicial review ruling, a request rejected by the judge, Anthony Thornton.
The leader of Kingston council, Derek Osbourne, told local media that he regarded the case as "a one-off error of judgement" by Chew and that "we have no concerns about her".
SOURCE: The Guardian