Judge rules local authority has not proved case for care order on nine-month-old girl over bleeding on her brain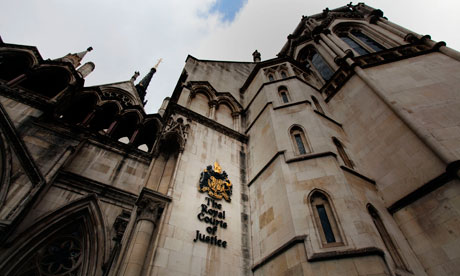 The Royal Courts of Justice. Photograph: Graham Turner for the Guardian
A couple have won a high court fight to regain care of their nine-month-old daughter despite doctors concluding that the baby had probably suffered a head injury when shaken.
Social workers had asked a judge to rule that the girl should be placed into care as a result of expert medical opinion about the cause of bleeding on her brain.
But Mr Justice Coleridge, who had analysed evidence at a hearing in the family division of the high court in London, refused the request, saying the local authority had not proved that a care order was required.
Both parents had denied shaking or hurting their daughter, and the judge said they were impressive witnesses with nothing in their background to suggest they would harm a child.
The judge said the parents, who have not been identified, had agreed to their daughter being placed in foster care while investigations were carried out. He said the girl could be returned to her parents.
SOURCE: The Guardian