David Cameron tells traditionalist Tory MP he wants to 'promote marriage' and not weaken it.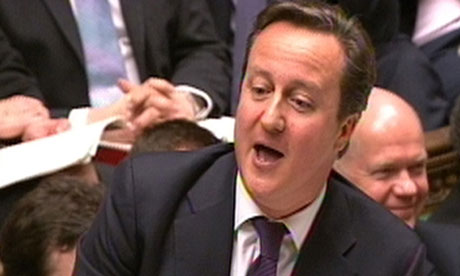 David Cameron said at prime minister's questions: 'Frankly I am a marriage man, I am a great supporter of marriage.'
David Cameron has rejected a call by a leading Tory traditionalist for heterosexual couples to be granted the right to enter into civil partnerships after MPs voted overwhelmingly in favour of equal marriage.
As Francis Maude, the founding father of Tory modernisation, said that some elements in the party moved slowly on social issues, the prime minister said he wanted to promote marriage for all and did not want to weaken the institution.
Cameron spoke out after Christopher Chope, the Tory MP for Christchurch, reiterated a demand made by traditionalist Tories in Tuesday's Commons debate by calling for heterosexual couples to be given the same rights as same-sex couples.
Chope asked Cameron in the first question at prime minister's questions: "Can [he] say in response to the many concerns expressed in yesterday's debate will he ensure that civil partnerships are open to heterosexual couples on an equal basis with homosexual couples?"
The prime minister replied: "I will obviously listen carefully to what he says. But frankly I am a marriage man, I am a great supporter of marriage. I want to promote marriage, defend marriage, encourage marriage.
"The great thing about last night's vote is that two gay people who love each other will now be able to get married. That is an important advance. I think we should be promoting marriage rather than looking at any other way of weakening it."
The prime minister spoke out after Francis Maude, who ran Michael Portillo's modernising campaign for the Tory leadership in 2001, said the vote on gay marriage showed that many Conservatives were slow to accept social change.
The equal marriage bill was given an overwhelming second reading by 400 votes to 175, a majority of 225. But the prime minister failed to win the support of more than half of his 303 MPs after 136 Tories rejected the measure and around 40 Tory MPs either did not vote or actively abstained.
Maude told Newsnight on BBC2: "The Conservative party divided roughly like the country does. A lot of people on one side, a lot of people on the other side."
But he added: "Sometimes parts of the Conservative party move but they move more slowly, or a few paces behind the centre of gravity of social attitudes which have changed and will probably continue to change in ways that it is hard to predict. But we get there, maybe at different speeds."
The marriage (same-sex couples) bill will now go to the committee stage in the House of Commons. It will then move to report stage and will then receive a third reading before moving to the House of Lords.
SOURCE: The Guardian