Women's organisations say positive action in some areas of government is undermined by Department for Education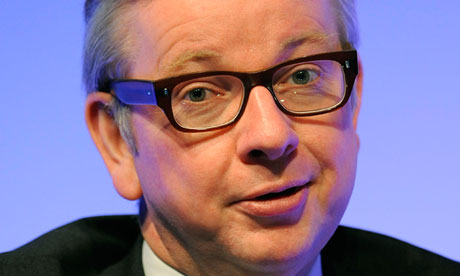 Michael Gove, whose education department was criticised for failing to support government efforts to tackle domestic abuse. Photograph: Joe Giddens/PA
Government efforts to tackle domestic violence against women and girls are "virtually meaningless" in some areas, according to a group of women's organisations.
In a report released on Thursday, the End Violence Against Women Coalition – an umbrella of 60 women's organisations which aim to prevent domestic violence – gives the government 2.5 out of 10 for its preventative work, and argues that positive action from the Home Office, Department for International Development and Crown Prosecution Service is being undermined by the Department for Education and the Department for Culture, Media and Sport.
In the wake of a series of high-profile domestic and sexual abuse cases, the group urged the government to make sex and relationship education, which covers issues of consent and respect, compulsory. "For months now there has been a torrent of news reports about child sexual abuse, prosecutions of groups of men for child sexual exploitation, the murders of Tia Sharp and April Jones, and weekly stories of domestic violence murders, the rate of which is not falling," said Marai Larasi, chair of the End Violence Against Women Coalition.
"We urgently need a response from the prime minister as to the government's plans not just to police but to prevent this abuse in the first place. It is not inevitable – strategic policy can detect risk and prevent abuse. Currently government work is at best patchy and education policy is a key barrier to improving this."
The Department for Education was criticised for failing to support key government efforts to tackle domestic abuse, such as the Home Office's "thisisabuse" campaign, which featured online, on youth television and in cinemas. The report states that the DfE did not distribute material about the campaign and did not warn schools and teachers to be prepared if children came forward to disclose abuse as a result of the campaign. It added that a DfE expert group on violence against women and girls was disbanded in early 2012 and "our experts also did not feel there was sufficient ongoing training on safeguarding for teachers and staff".
Michael Gove, the education secretary, dropped Labour plans to introduce compulsory sex education lessons in English primary schools last year, and told an education select committee that there was a direct link between children doing well academically and their chances of indulging in "risky behaviour".
"If governmental departments don't work together on key initiatives, their effectiveness is undermined," said Holly Dustin, manager of End Violence Against Women. "There is good work in some areas of government, but unfortunately in other key areas the government's pledge is virtually meaningless."
A YouGov poll of more than 2,000 adults, commissioned by the group in conjunction with the report, found 86% of UK adults questioned believed sex and relationships education "which addresses sexual consent and respectful relationships" should be compulsory in secondary schools. A third of respondents believed their school should be doing more to prevent abuse, while 44% did not know. Of the third who thought schools should do more, 87% said teachers should be trained in spotting signs of abuse; 76% said schools should proactively tackle "sexual bullying" such as groping and sexual name-calling and 65% agreed that schools should have a clear policy prohibiting pornography in school including via phones and online.
A Home Office spokesperson said the government had "driven forward significant progress in tackling violence against women and girls", including ringfencing £40m for domestic and sexual violence support services, creating two new offences of stalking, launching the pilot of "Clare's law", introducing legislation to criminalise forced marriage and campaigning against female genital mutilation. "We are actively pursuing ways in which we can prevent domestic and sexual violence happening in the first place, do even more to help victims, bring perpetrators to justice and eradicate these appalling crimes for good."
A Department for Education spokesperson said that sex and relationship education was already compulsory in maintained secondary schools. "Our guidance explicitly states that children must learn about 'how to recognise and avoid exploitation and abuse'," said a spokeswoman. "Teachers must also cover the concept of sexual consent and teach pupils to respect themselves and others. We supported the thisisabuse campaign and made it accessible to teachers. We are also working hard to tackle child sexual exploitation, sexual bullying and the sexualisation of childhood."
According to the Sex Education Forum, current government policy states that it is compulsory to teach the biological aspect of sex education but sex and relationships education (SRE) is "currently not compulsory but is contained within non-statutory PSHE [personal, social, health and economic] education within the national curriculum and is strongly recommended within government SRE guidance." Government guidelines state: "Parents have the right to withdraw their children from all or part of any sex education provided, but not from teaching the biological aspects of human growth and reproduction necessary under national curriculum science."
Dustin said: "We are confused as to why the Department for Education are saying that sex and relationships education is already compulsory when ministers have said repeatedly that they will not make it so. There is no law requiring schools to address issues such as sexual consent or healthy and respectful relationships, nor indeed to discuss the harmful messages that pornography sends."