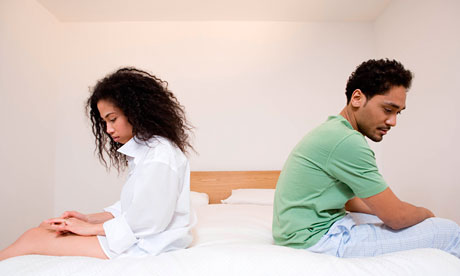 There are about five times as many divorces now than there were in the 1950s. Photograph: Rex Features/Image Source
Warring couples are only half as likely to cite adultery as the cause of a marriage breakdown than they were 40 years ago, but claims of unreasonable behaviour have rocketed, analysis of more than 5m divorce cases has shown.
Co-operative Legal Services compared the grounds for divorce in the 70s, 80s, 90s and 2000s as well as the present day.
It found that while in the 70s, 29% of marriages ended because of adultery, the latest figures show only 15% of divorces were down to infidelity. In the 70s unreasonable behaviour was cited in 28% of cases but it now accounts for almost half of all divorces (47%).
Examples of unreasonable behaviour given to lawyers for divorce include an unsociable husband making his wife feel guilty when she wanted to go out with her friends; a cross-dressing husband who decided to have a sex change; and a spouse withdrawing all the family savings – £40,000 – and burning it in the bedroom.
Christina Blacklaws, director of policy at Co-operative Legal Services, said: "Although society's attitudes to divorce have changed, with less of a stigma attached to it, the grounds for divorce have remained enshrined in law for decades."
She said the widely held belief was that divorces were granted because of unreasonable male behaviour, "but there has been a marked shift over the decades, with men now five times more likely than in the 70s to be granted a divorce because of the unreasonable actions of wives".
The study highlighted the 80s – the era known for yuppies – as yielding the most adulterous break-ups – with nearly one in three (29%) of all divorces granted due to cheating on a partner. In the same decade, almost one in five divorces were down to the husband's infidelity.
Of all the decades, the 90s had the highest number of divorces – more than 1.5m – while in the 70s there were around 1.1m. In comparison the 50s had around 275,000 divorces and the "swinging 60s" 360,000.
The Office for National Statistics reported recently that the number of over-60s in England and Wales who are getting divorced is rising. The trend, which began in the 90s, contrasts with generally falling divorce rates in the rest of the population.
The ONS said part of the explanation was simply the ageing population – there are more over-60s than there were – although other possible contributory factors included a loss of stigma over being divorced, and more financial independence for women.
Blacklaws said: "We now see around five times as many divorces as occurred in the 50s, and sadly for every two marriages we also witness a divorce. The breakdown of any marriage can be problematic but the rise of home-ownership and [more] working mothers means more consideration needs to be given to agreeing how finances, including pension rights, will be divided, to caring responsibilities and custody of children."
SOURCE: Guardian