Judge issues warning two years after Humma Dar disappeared with daughter Aamina Khan after girl's father was given custody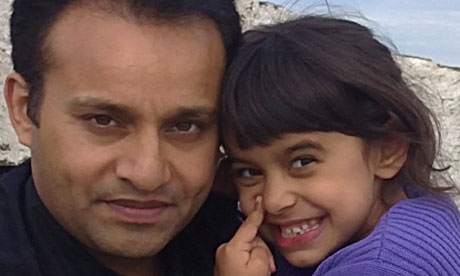 Safraz Khan with daughter Aamina Khan, who disappeared with her mother almost two years ago. Photograph: PA
A doctor wanted after abducting her daughter and vanishing in the wake of a marriage breakup has been told by a judge "the courts will not give up".
Deputy high court judge Clive Heaton issued a warning nearly two years after Humma Dar, 39, disappeared with daughter Aamina Khan, who will be eight in July.
The judge said it was impossible not to have sympathy for Aamina's father, Safraz Khan, 44, from Croydon, south London, who is also a doctor and had been given custody of the girl.
He said the search for Aamina and Dar – who vanished from Morden, south-west London, in August 2011 and are thought to be in Pakistan – had not reached its end.
He was speaking at a hearing in the family division of the high court in London, where he gave permission for Aamina to be identified in media reports.
"The abduction of children is a very serious matter and the courts should and do pursue, locate and return such children to their rightful carers," said the judge.
"The message must go out to those who abduct children that the courts will not give up after a few months or years just because no progress seems to have been made."
He added: "This is not the end of the story so far as attempts to locate Aamina are concerned."
The judge said Khan – who broke down during the hearing – was distressed and frustrated. "It is impossible not to have sympathy with the father," he said.
"I urge the father to continue to pursue all proper steps open to him to locate his daughter. Where the court can properly assist him in the search it will certainly do so."
The judge said Aamina had been visiting her mother when the pair vanished on 26 August 2011. He said Dar had abducted Aamina and evidence suggested that they had gone to Pakistan.
Khan had begun civil court action in the hope of finding his daughter, and police in London and Pakistan had been involved in trying to trace Dar – who had been hoping to be a GP – and Aamina, the court heard.
"It is an extraordinarily serious matter," said the judge. "This child has been missing … for approaching two years." He added: "Sadly the whereabouts of both the mother and child remain unknown."