Work and pensions secretary's conference speech highlights 'growing underclass' dependent on welfare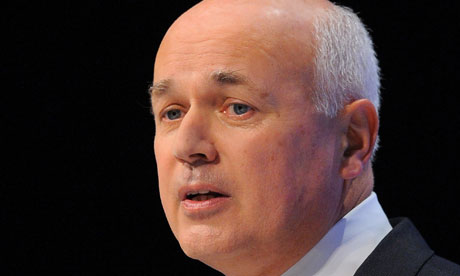 Iain Duncan Smith used his Conservative party conference speech to blame the UK summer riots on a welfare-dependent 'growing underclass'. Photograph: Andrew Yates/AFP/Getty Images
The work and pensions secretary, Iain Duncan Smith, has blamed the summer riots in England on family breakdown and a benefit system that has helped generate a "growing underclass" of people living unproductive lives.
Speaking in Manchester, where city-centre rioting erupted in August, Duncan Smith said the Conservatives should become social reformers once again to restore "aspiration and hope to people that have been left behind for too long".
He said the riots were a wake-up call and showed that attempts to contain the growing underclass had failed.
Saying gangs had played a significant part in the riots, he said tackling the UK's violent gang culture was vital and that restoring the economy should go "hand in hand with restoring society".
"The riots provided a moment of clarity for us all, a reminder that a strong economy requires a strong social settlement, with stable families ready to play a productive role in their communities," he said.
Polling conducted by YouGov for the Centre for Social Justice (CSJ) thinktank – set up by Duncan Smith in 2004 – found that more than 80% of people regarded family breakdown as a serious problem facing society.
The CSJ has published a manifesto for the family, which said family breakdown was a key factor in the "broken society" and that tangible support for marriage was vital to restoring stability to family life.
Duncan Smith highlighted the role of "stable two-parent families taking responsibility for their children and creating a strong society" as vital, and said the government needed to reverse the "biases [that give] financial discouragement" to couples in the tax and benefit system.
He said his welfare reforms would make an impact where it mattered most – among families on the lowest incomes.
He also reminded delegates of David Cameron's commitment to recognise marriage in the tax system in this parliament, though this has yet to materialise. The CSJ polling suggests overwhelming 70% backing for tax breaks for marriage.
He told the Tory conference that the riots saw the best and worst of Britain and served as a pertinent reminder of the social problems the coalition had inherited from Labour.
While there was "no justification at all, and never will be" for what happened in the summer, he said there was a familiar context to the riots in the shape of rising underclass characterised by "chaos and dysfunctionality … and governed by a perverse set of values".
He said that while gang members were not the sole perpetrators of the riots, they played a significant part.
"The scenes of young people ransacking local businesses, displaying stolen goods on the internet, spoke of a damaging culture on the rise in recent years," he added.
Duncan Smith compared youngsters joining gangs to child soldiers in developing countries who seek companionship and role models, saying: "Many young gang members drift in from dysfunctional broken backgrounds in search of a place to belong, a perverse kind of family, others through fear of retribution.
"With no role models except the violent and the criminal, like child soldiers of the third world these young minds bear the deep scars of a life filled with anger and violence.
"Fighting this through our police forces is crucial, but this isn't a job for officers alone – we must end the false belief that we can arrest our way out of this crisis."
Duncan Smith told the conference that pockets of social housing had too often become places of intergenerational worklessness, hopelessness and dependency.
He said the government was confronting the worklessness that had been nurtured "for too long" by the benefit system.
He cited the four million people stuck on out of work benefits, "many for a decade or more", and one of the highest levels of unsecured personal debt in western Europe, coupled with widespread family breakdown and high rates of teenage pregnancy which he said saw "poor parenting transmitting dysfunctionality from one generation to another".
Almost one-fifth of all households were workless, and spending on working age welfare had rocketed by 50% in real terms under Labour before the recession, Duncan Smith said.
He blamed Labour for allowing foreign workers to take British jobs while unemployed Britons languished on welfare handouts.
"For too long the last government understood that we had a social problem, but considered it a second order issue," he told delegates.
"They knew too many British people were on benefits living unproductive lives, but their short-term coping strategy was to bring in more and more workers from overseas to fill the gaps."
He said ending the failure of the work and welfare system around was like turning a supertanker around, but said: "We must, and we are."
http://www.guardian.co.uk/politics/2011/oct/03/duncan-smith-riots-benefits-system?newsfeed=true