Vulnerable families challenging £500-a-week cap say it may force victims of domestic violence to return to their abusers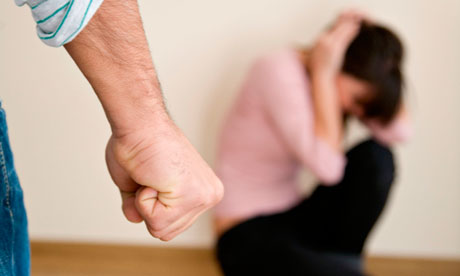 Two of the claims involve victims of domestic abuse and their claims are supported by the refuge charity Women's Aid.
Photograph: Dani Rodriguez/Alamy
Families will suffer catastrophic effects and victims of domestic violence may be forced to return to their abusers, it will be argued in the first test cases challenging the government's imposition of a £500-a-week cap on benefits.
A judge has already given permission for a full judicial review of claims that involve four vulnerable families relying on welfare payments. One household is facing imminent eviction, according to documents filed at the high court.
One of the families lives in Haringey, one of the four London boroughs selected by the Department for Work and Pensions (DWP) as pilot areas for introducing the controversial benefits cap.
The families have not been identified. Two of the claims involve victims of domestic abuse; their claims are supported by the refuge charity Women's Aid.
The DWP restrictions are supposed to provide an incentive for those on benefit to seek work and prevent families from receiving more by remaining dependent on welfare.
The government's own impact assessment of the Welfare Reform Act estimated that as many as 56,000 households would be affected, losing on average around £93 a week. The overall cap has been set at £500 per household and £350 for single adults.
There is no right of appeal against benefit reductions. The cap applies however many children there are in a household. Large families are therefore likely to be disproportionately affected by the regulations.
"The families who bring this claim are indicative of … concerns regarding the legality of the policy, including its discriminatory effect, given its disproportionately adverse impact upon women (particularly single mothers), children, the disabled, and certain racial and religious groups," the court papers explain.
The families will suffer catastrophic effects if the cap is imposed on them, it is said. "Two of the families will receive nil for basic subsistence (food, clothes, heating) as their rent exceeds the £500 per week cap. They will immediately fall into arrears, face eviction and street homelessness.
"Two of the families have fled domestic violence in circumstances where they were financially reliant upon their abusive partners, and they now face a stark choice between descending further into poverty and risking losing their homes, or returning to their abusers in order to escape the imposition of the cap."
Rebekah Carrier, the solicitor at Hopkin Murray Beskine, who acts for all of the claimants, said: "This is a cruel and misguided policy. It will have a catastrophic impact on our clients and many thousands more vulnerable children and adults. They face street homelessness and starvation.
"A year ago the children's commissioner warned the government that these changes would result in a sharp increase in child poverty and homelessness, with a disproportionate impact upon disabled children and children of disabled parents, and some BME groups.
"The difficulties now faced by my clients were predictable and avoidable. The reason for the policy is said to be to encourage people to obtain work but my clients face difficulties in securing employment because they are lone parents with caring responsibilities for babies and toddlers, and disabled adults who have already been recognised as unable to work due to their disabilities."
The case will be argued by Ian Wise QC and Caoilfhionn Gallagher of Doughty Street Chambers. Lawyers are looking at least another 15 similar claims as law centres are approached by desperate families seeking advice about the effect of the benefits cap.
In a supporting statement, Niki Norman, deputy chief executive of Women's Aid, says: "The benefit cap is likely to have a significant adverse impact on women seeking to move on from refuge accommodation into other housing, and therefore on the availability of refuge space to women in crisis who seek urgent safe shelter.
"The inevitable result of the implementation of the benefit cap for women as they leave refuges is that some families will suffer destitution, some will become homeless again very quickly, and some will choose not to leave refuges, with all the resulting difficulties for refuges."
A DWP spokesperson said: "We are confident that the benefit cap measures are lawful and do not discriminate against any groups. The benefit cap sets a fair limit to what people can expect to get from the welfare system – so that claimants cannot receive more than £500 a week, the average household income."
The DWP has recently faced a number of judicial reviews on its welfare reform programme. Earlier this week a tribunal ruled that the work capability assessment (a test determining eligibility for disability benefits) put people with mental health problems at a substantial disadvantage. A separate judicial review has been considering whether the impact of the government's so-called bedroom tax on tenants "under-occupying" social housing is discriminatory.
SOURCE: The Guardian