Leaders of 11 children's charities say new rules will make it more difficult for people in social housing to become foster carers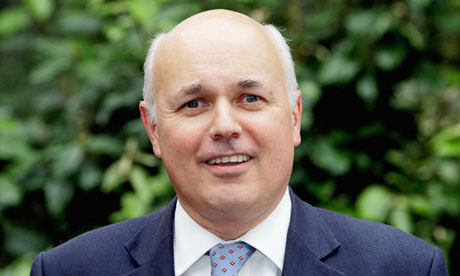 Iain Duncan Smith's Department for Work and Pensions said it had 'provided £30m to councils to ensure that groups like foster carers and disabled people are protected'. Photograph: Dan Kitwood/Getty Images
Eleven children's charities have urged the government to reconsider the decision not to exempt foster carers from the controversial "spare bedroom tax", currently facing a legal challenge in the high court.
Under the new rules, due to come into effect on 1 April 2013, fostered children will not be counted when assessing the number of occupants in a social housing property, meaning carers will have their housing benefit reduced.
In an open letter to the work and pensions secretary, Iain Duncan Smith, and the chancellor, George Osborne, published on Wednesday, the charities claim some foster carers have reported receiving visits and letters from their local housing department saying they will have to move into smaller properties.
While the government has given £30m to the discretionary housing payment fund, with £5m earmarked for foster carers, to help people deemed to be in exceptional circumstances, the charities say some people have been told they will not have access to it and others will not receive the full amount they lose in housing benefit.
The letter signed by the chief executives of the 11 charities, including Fostering Network, Barnardo's and Action for Children, says: "There is already a recruitment crisis in foster care with 9,000 new foster carers needed across the UK, and the government acknowledges and supports the urgent need to find more foster carers. These new rules will make it even more difficult for people in social housing to become foster carers at a time when we urgently need more to come forward.
"The government proposed these changes to address residential under-occupancy and to provide incentives for employment. Neither of these rationales is relevant to foster carers, who are required to have a spare room in order to provide homes for vulnerable children."
The government is already facing a legal challenge from 22 claimants, including 10 disabled and vulnerable children, who want a judicial review of the new rules, which stipulate housing benefit will only be payable on the basis that children under 16 of the same gender will share a room, and children under 10 will share a room regardless of their gender.
A Department for Work and Pensions spokesman said: "It's fair that we ensure social housing is used appropriately and that the state no longer pays for people to live in homes too big for their needs. However we've provided £30m to councils to ensure that groups like foster carers and disabled people are protected."