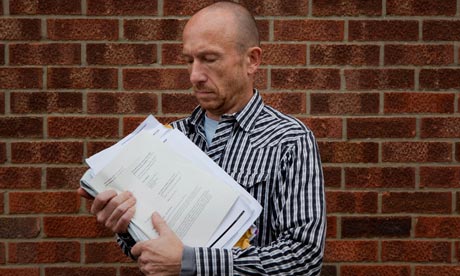 Mark Langridge is being chased by the CSA after donating his sperm. Photograph: Graham Turner for the Guardian
A gay man from Essex who donated his sperm to enable a lesbian couple to have two children, but who was never named on their birth certificate and had no role in their upbringing, is being forced by the Child Support Agency to pay for their support – 13 years after the first child was born.
Mark Langridge, who has been with his partner for 16 years (and in a civil partnership for the last five), has called on the government to review the law after the CSA suddenly demanded that he start paying £26 a week for two children he technically fathered over a decade ago.
He has had no contact with the family since 2004, but the CSA said that he has to either pay up, or take a DNA test to show that he is not their natural father.
His story will send shivers down the spine of any man who was asked to donate their sperm by a childless woman in the 90s.
Back then it was impossible for women to use official sperm banks unless they had a male partner – something that is no longer the case.
Changes to the law mean that if Langridge made the donation today in similar circumstances he wouldn't be financially liable for the children, and he has called for the law governing this area to be applied retrospectively. It is thought that there are several other men caught up in the same position.
His story starts in 1997 when he and his partner Shaun met a lesbian couple in Bliss nightclub in Southend. They became good friends and it soon became clear that one of the women was keen to have children.
As a result, in 1998, Langridge visited the Essex home of the mum-to-be, glass container in hand, and in a separate room the woman inseminated herself.
He says he only agreed to it after being given repeated assurances that the couple were financially secure and would need no financial input from him at any stage. He was told by the mother that he was not named on the child's birth certificate, and that the mother's story would be that she'd had a fling and that the father had gone back to the US.
A year later she asked him again to donate, as she wanted a sibling for her child and thought it would be nicer to have the same father. He agreed and another girl was born in the spring of 2000. Again, he was told he was not named on the birth certificate.
A few years later his relationship with the mother and her female partner started to deteriorate, to the point where he no longer saw them or their daughters. He received the occasional letter from the girls, to which he replied.
What he did not know was that the lesbian couple split up, leaving one of the mothers with both children, who later sought support from the state.
One reason he felt willing to donate his sperm was that the couple had been promised a large sum of money which would give them a level of financial security. However, when that money came through they had separated.
He understands that the non-biological mother in the pair continues to live near the former family home, and to see the girls at weekends, in the same way, he says, any other divorced or separated parent would – even though they were never civil partners. Yet the CSA is not chasing the other mother for support payments.
He says that over the years the mother threatened she would tell the CSA that he was the father, and in June this year he received a letter demanding he contribute to the children's maintenance.
Because he is self-employed and lives on a low income as a part-time book-keeper and gardener, the £26 a week that has been calculated by the CSA is money, he says, he doesn't have. "Of course, if I'd foreseen this all those years ago I would not have agreed to it. I just wanted to help a woman in need, and thought what harm could it do?" he adds. "I have told the CSA what happened but it has fallen on deaf ears. As far it is concerned, if I'm the biological father I have to pay – irrespective of the circumstances."
Guardian Money made attempts to track down the women but we were unsuccessful and, as a result, have taken the decision not to name or identify them.
A spokesman for the CSA confirmed the situation. "The law covering unlicensed sperm donation has always been very clear. Only anonymous sperm donors, at licensed centres, are exempt from being treated as the legal father of a child born as a result of their donation.
"This has never applied to men who donate sperm as part of a personal arrangement. Unless the child is legally adopted, both biological parents are financially responsible for their child by law, regardless of whether both their names are entered on to the birth certificate."
Natalie Gamble, founder of Natalie Gamble Associates, the UK's foremost experts on fertility law, says the law in this area changed a few years ago.
"Had the donation taken place after April 2009, or through a clinic, the law would have viewed his responsibility very differently. In that case he would not be deemed the father, provided the consenting couple to which he was making the donation were in a civil partnership, or his donation to the couple was through a licensed clinic. The fact that it was made on a private basis before that date means the law is very clear. He is considered the father."
Her company represented the last high-profile case in this area – fireman Andy Bathie. His case, which came to light in 2007, was almost identical to Langridge's. His donation had enabled another lesbian couple to have children.
When they split and the mother claimed benefits, he was chased by the CSA for thousands of pounds. He was forced to take a DNA test which confirmed he was the father.
Unable to afford children of his own with his wife because of the payments, he called on the law to be applied retrospectively – a call echoed this week by Langridge, who says he simply can't afford the tens of thousands of pounds it would cost to mount a legal challenge through the courts.
"The law was changed because it was unfair, but it is still considered OK for men caught in my position to be penalised," he says.
"Our only crime was agreeing to do someone a good turn. It is absurd that I'm being chased for the money while the children's other mother makes no contribution to their upkeep.
"How can that be right in modern Britain in which we supposedly have equality?" he asks.
SOURCE: The Guardian